Some might complain of getting bored or depressive during the pandemic, but for artist Antonius Kho, it has been a busy creative period.
Not only has he taken part in 10 exhibitions worldwide with canvases inspired by the pandemic, he is also preparing for his participation in the 4th International Bene Biennale in Italy, which opens on Aug. 25 in Benevento, a city of Campania and the capital of the province of Benevento, located some 50 kilometers northeast of Naples.
Antonius, as the only Indonesian participant, has been accepted to send two paintings for the biennale under the direction of Maurizio Caso Panza, which is themed "Liberare Arte" (Freeing Art).
The biennale aims to detach the artist from standard patterns and change perspectives on the value expressed. "The dynamics of the art world in a social time aim at global dimensions. Art is the expression of an energy and is also the substance of life," the organizer said in a statement.
In the moment: Antonius Kho's 'Physical Distancing' (2020, mixed media) is to be displayed at the 4th International Bene Biennale, Italy, which is scheduled to open on Aug. 25. (Courtesy of Antonius Kho/-)
Antonius is shipping two paintings that have been accepted by the selection committee – Physical Distancing and Social Distancing – both inspired by the pandemic.
Physical Distancing features faces painted in his typical style, with each face covered with smaller parts to create a mask-like appearance, while Social Distancing is more abstract.
Together with the works of other participants, Antonius' iconic works will be displayed at the exhibition from Aug. 25 to 31.
Antonius is known as a prolific artist, painter and sculptor who has created a genre that is entirely his own.
When his health condition compelled him to stop creating his trademark wooden and bronze sculptures, he continued creating his peculiar paintings.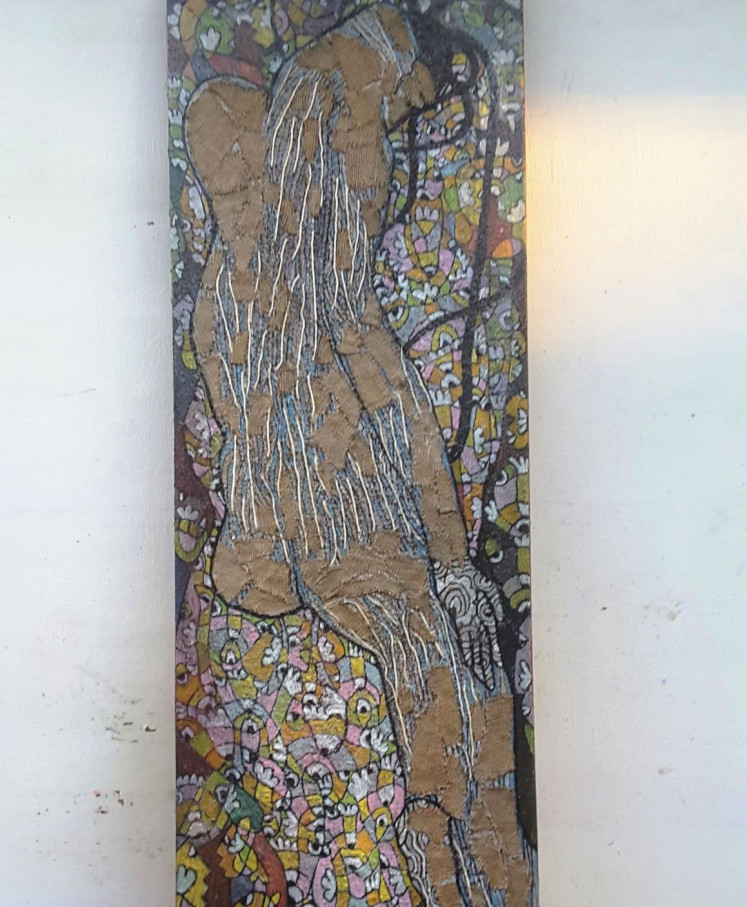 Into details: Antonius Kho's 'Social Distancing 3' (2020, mixed media on canvas) is one of his two paintings to take part in the upcoming 4th International Bene Biennale, Italy. (Courtesy of Antonius Kho/-)
Figurative and abstract at the same time, they are reminiscent of stained glass while infused with the notion of masks. Initially, his works were exploring the issue of identity – a natural outflow of his being born to a Javanese mother and a Chinese father.
His canvasses were covered with small parts within a larger plane through which lines were drawn to shape faces of indifferent origin.
In a way, it could refer to the Indonesian motto of Unity in Diversity, while one could also be reminded of stained glass found in European churches.
But instead of the blue and red common in stained glass in churches, green and yellowish tones dominate Antonius' works, with a touch of brown, colors he says are inspired by the natural environment of his home on Java Island.
Once a batik painter, the memory of patterning in batik art is also tangible, while the mask-like faces may refer to figures of wayang puppet shows. Most remarkable in his paintings is the haunting presence of eyes scattered everywhere on the canvas.
"Eyes," Antonius says, "reflect the inner soul".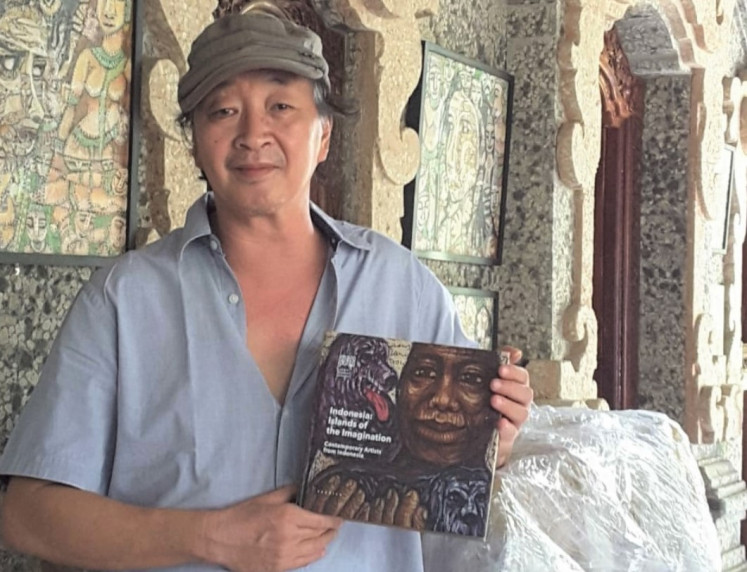 Antonius Kho (Courtesy of Antonius Kho/-)
Born in 1958 in Klaten, Central Java, Antonius left for Germany after a stint at the Bandung Institute of Technology (ITB) and classes with painter Barli in Bandung.
In Germany he studied at the Fach Hochschule Kunst Akademie (Academy of Applied Art and Sciences) from 1984-1992, majoring in textile painting and glass painting.
Antonius explained that he was much attracted to glass painting and stained glass, but he could not get the needed glass back in Indonesia, so he painted it on canvas.
Besides painting, Antonius is also an energetic organizer, who sees it as his mission to connect Indonesian artists to artists in Asia and Africa through group exhibitions.
Settling in Bali in 2002, he established his Wina Gallery as an exhibition space cum studio cum residence; and in 2004 he created an art foundation and the ArtExchange project that have been active ever since. The artist also organizes exchange exhibitions for Imago Mundi, a Benetton initiative.
Driven by the COVID-19 outbreak, Antonius has recently embarked on a series of mask-like paintings related to issues such as social distancing, physical distancing and measures to keep the virus at bay.
Foremost is his new COVID-19 series dominated by his belief in spreading love as the most important medicine to recover from the fear and panic that hit society. Black capricious strings metaphorical of hair are the new accent in his paintings.
"In my works, love is spread through the hair," he explains. (ste)
BECOME A 'TRENDER' AND MAKE MONEY ONLINE by signing up with  The Online Publishers "TOP" platform to become one of their trenders. By working with TOP as a trender you have the ability to make money online and take part in creating some potentially viral social media content.